This past weekend found me in Southern Indiana, where the task at hand was to get NK4P's new/old Force 12 Yagi installed. Paul had convinced the powers at the "new" new F-12 to provide him with a new boom, along with the Delta 40M element, while utilizing his old C-4E elements. Essentially, he had what appears to be a cloned XR-5 with some slightly different element mounting geometry.
His tower is a combination of old/new 25G parts, as well, about 65 ft in height. I saw at once the issue or problem would be the old bugaboo–not enough room for tramming. And it was a tight squeeze, too, with only about 60 ft of room. Then there was the recommended balance point issue (F-12's suggested CG was about 18 inches off). All these "issues" took some time to resolve. But by lifting the front end loader on Paul's tractor to its limit (essentially extending the tram line distance), we were able to get the beam on a straight & true trajectory to the tower top. A quick check with some RG-8X halted everything when the beam did not work ANYwhere! Casual checks proved both factory-supplied baluns to be bad. So, it was a mad scramble to make up some 40M & HF choke baluns. Paul was delighted when a second check showed the beam to be working just as planned. The only issue at that point was to get the 40M X-shaped capacity hat over the top guy. Once that was done, I went up & secured the beam into place, aligned it with the previously installed 6M Yagi overhead, hooked up the Yaesu rotator, & began coming down, securing cables. A nice, simple & elegant installation.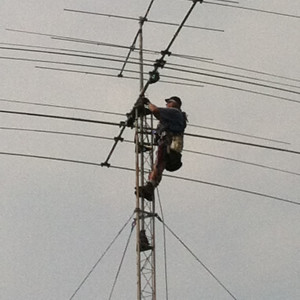 Next up…local work, as WX permits (meaning it hopefully will drop below 95 – 100 degrees one day soon).
stay tuned…