Once upon a time, it was uncommon to have a rotatable antenna on 40M. Only the biggest stations had them, & everyone else dreamed of them, or considered them too expensive, too outrageous, & so forth. Then came the personal computer, software that allowed one to design & build an antenna "on paper," but that then worked just as the model predicted it would when one began cutting aluminum. 40M Yagis became somewhat commonplace, with contest stations driving their use. Of course, it was then logical to began modeling antennas for 80M, where the practical realities of building something that not only worked, but could be kept in the air. The physical design needs far out-weigh the electrical requirements, for instance. But once again, software was written that provided the answers. Today, a number of two & three element designs exist for 80M beams, & this week, I journeyed down to Myrtle Beach, to build & install K2QWD's 2L OptiBeam.
Gene's whole setup is a welcome refresher from the typical ham installation. His tower is a homebrewed combination of commercial components–Rohn's SSV MicroWave tower (used as the base!), topped by some PIROD sections. KR7X ran the numbers, & Gene's tower EXCEEDS the wind speed ratings for his location, which happens to be 130MPH! Big stuff, indeed…
The antenna went together fine, but we tried installing the truss system. Setting the truss in to position required putting considerable bend or bow in the element. It just seemed "wrong" to me–to have that much bow–so we contacted OptiBeam. Naturally, we were told it was our fault. I finally just did it, & overnight the truss rope & aluminum all seemed to relax & look normal once again. Array Solutions over-nighted us the missing balun, & the assembly was completed without further questions or issues. The crane arrived on time Friday morning, & just as I set foot on the first rung (literally, it was like God was watching…), the skies opened up with a crash of lightning, thunder, & fat, wet raindrops. So we rescheduled the work for the following morning. Although there was not a lot of working room, the install went fairly easily. And the PIROD is very difficult to work on, with its X-shaped bracing; it's quite literally painful to stand there for any extended period of time.
Gene will run the cables to the shack later this week.  Here's the tower/beam. In a word, gosh, huh?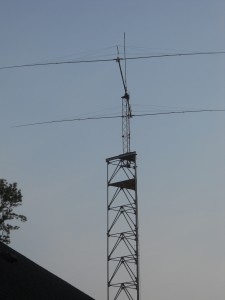 stay tuned…