The task before us was to remove & take down K4BVQ's old Cushcraft 402-CD, tettering around on a slightly leaning aluminum mast, which was 12 feet above his TH-7. Then cut off 10 feet of that bent mast.
Obviously, we could have removed the rotator, loosened the thrust bearing bolts, removed the TH-7, slinging it to the side of the tower (45G, by the way), & then simply slid the mast down inside the tower, removing the taped-on coax, etc. until we got to the 402-CD. Equally obvious, this would have taken a whole lot of time.  Since Frank's company (Charlotte Pipe & Foundry) uses UNION CRANE for a myriad of jobs, & they were available, it made sense to utilize them for this job. Besides, I've done jobs similar to this previously, & knew it was the simple, smart & safe way to do it.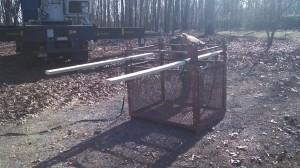 The hardest part was shoehorning their new crane in to the area near the tower base, & carefully swinging the jib out & installing it. Lots of angling, back & forth, etc. in order to get things rigged.  While the crane operator was doing that, I assembled the "Fabulous Flying Forklift," meaning it's simply the crane's man-basket with two 2X4s secured to it, & sticking straight out in front. This provides a secure platform on which to drop & hold the Yagi boom, making life aloft much easier. We had the 402-CD down in 10 minutes. The mast removal took us a bit longer, as we had to go up to the mast top, attach a muffler clamp & rig other slings, then slide down easy, removing the old coax as we went, rigging more slings (ensuring nothing could fall & damage the TH-7, or us). Then the SawZall made relatively short work of cutting off the damaged portion, although it was harder than I thought–meaning I couldn't see the cut through the basket & the vibrations made "feeling" we were near the end harder than I thought. But, again, all went off as planned, & we were back on the ground in 20 minutes.
All in all, I think we made a somewhat tricky bit of work look easy.  Frank seemed impressed, & it's always good to impress one's clients.
Next up, more local work, then back on the road.
stay tuned…