This road trip took us to MD/VA once again.
The first stop was N3ARL, in Sykesville, MD. Howard wanted a new mast & rotator installed, and a general "cleanup" on his 25G tower. If there was a direction left uncovered by TV antennas on his tower, I couldn't find it! Everything came down but two UHF beams pointing toward Baltimore & Washington. Then we swapped the mast/rotator & installed new coax. Considerable time was consumed searching for the END of the Heliax inside the house, however, as when the Heliax's RG-8 jumper was removed, copious amounts of water poured out. It was decided we'd install new Heliax on a second trip.
Then we drove a few short miles to N3OC's QTH. Here, the workload was a tad longer or more involved. Brian's 432 mHz Yagi was not working. Likely the short jumper from the LDF5 had water ingress, a simple, easy swapout, right? Well, when the tower (100 ft of 45G) contains an H-frame array of 903/1296/2304 loop Yagis, then a 2L 40M beam, then a 10 gHz dish, then the 432, then 222, then 2M, all stacked on a length of chrome-moly tubing…you get the idea….this is a serious undertaking. Brian was convinced we should remove the rotator, & jump the mast down on a comealong, removing antennas until we could reach the 432 beam. That sounded like a whole lot of work, entailing lots of up/down climbs, etc. So I decided to give mast-climbing a go & see if I could make the reach to the Yagi mounted abut 8 ft up the mast. Standing on one of the 10 gHz dishmounting clamps (basically on one foot), I was able to reach overhead & get to the boom-to-mast clamp. Voila~! In a few minutes, I lowered the beam to Joe at the tower top, where he installed the new jumper, & then the fun began of re-installing the beam over my head. Luck or something was with me & I didn't lose a single nut or washer. All this in 85 degree, high humidity, no breeze MD late summer weather…  Everything checked out, so I came back to the tower top, we lowered the H-frame, put a new fiberglass boom on, brought it back up, secured it, & it was lunch time.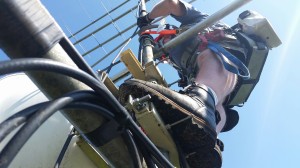 A quick stop at WA4JUK's on the return leg of the trip home, where we finalized the installation plans for Joe's new tower & beam. Then finally on the real road home. Next up, the annual Shelby Hamfest, then back to local work.
stay tuned…